Servers

UCS-SP-C200E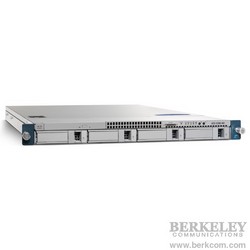 More Images
Cisco UCS-SP-C200E Rack-Mount Server 2x 5506 2.13 GHz Xeon Quad-Core, 2x 4GB RAM, 2x 500GB SATA, RAID - New

Price:

| | | |
| --- | --- | --- |
| Brand: | | Cisco |
| Condition: | | New |
| Itemcode: | | UCS-SP-C200E |
| Warranty: | | 3 Year Next Business Day |
Description:
The Cisco UCS-SP-C200E Rack-Mount Server extend the capabilities of the Cisco Unified Computing System, using Intel's Xeon 5500 and 5600 Series multicore processors to deliver even better performance and efficiency. Each product in the CISCO UCS series is designed to address varying workload challenges through a balance of processing, memory, I/O, and internal storage resources.


Specifications on the CISCO UCS-SP-C200E:
UCS-SP-C200E Technical Highlights
Processor

2 Intel Xeon Series 5506 processors
Quad-Core
2.13GHz Operating Frequency

Memory

2 sticks of 4 GB RAM DDR3 SDRAM
Supports 12 DIMM slots for up to 192 GB of memory using 16GB DIMMs
Advanced ECC
Mirroring option

PCIe Slots

2 PCIe Gen 2.0 slots available
1 x16 full-height and 1 x8 low-profile slots, both half-length
x16 connector on full-height slot and x8 connector on low-profile slot

RAID
RAID 1
Hard Drives

2 500GB SATA, 7200 RPM
Supports up to 4 front-accessible, hot-swappable, 3.5-inch SAS or SATA drives

Hard disk options

Gen 2 500-GB SATA; 7200 RPM
Gen 2 1TB SAS; 7200 RPM
2TB SAS; 7200 RPM, 3.5" HDD
Gen 2 300-GB SAS; 15,000 RPM
450-GB SAS; 15,000 RPM

Optical Drive
24x CD-R/RW DVD±R/RW read/write optical drive
Integrated graphics
Matrox G200 core embedded into the Server Engines Pilot-2 Baseboard Management Controller (BMC)
Cisco UCS Integrated Management Controller

Integrated ServerEngines Pilot-2 BMC
IPMI 2.0 compliant for management and control
One 10/100BASE-T out-of-band management interface
CLI and WebGUI management tool for automated, lights-out management
KVM

Front-panel connector
Ease of access to front-panel video, 2 USB ports, and serial console
Redundant fans and power supplies
Dual-redundant fans and power supplies
Front-panel locator LED
Indicator to help direct administrators to specific servers in large data center environments
Additional rear connectors
Additional interfaces include a DB-15 video port, 2 USB 2.0 ports, and a DB-9 serial port
Physical dimensions (H x W x D)
1RU: 1.7 x 16.9 x 27.8 in. (4.32 x 42.93 x 70.61 cm)
Temperature: Operating
50 to 95°F (10 to 35°C)
Temperature: Nonoperating
-40 to 149°F (-40 to 65°C)
Humidity: Operating
5 to 93% noncondensing
Humidity Nonoperating
5 to 93% noncondensing
Altitude: Operating
0 to 10,000 ft (0 to 3000m); maximum ambient temperature decreases by 1°C per 300m)
Altitude: Nonoperating
40,000 ft (12,000m)
UCS-SP-C200E Features and Benefits
10-Gbps unified network fabric

Low-latency, lossless, 10-Gbps Ethernet and industry-standard Fibre Channel over Ethernet (FCoE) fabric
Wire-once deployment model in which changing I/O configurations no longer means installing adapters and recabling racks and switches
Fewer interface cards, cables, and upstream network ports to purchase, power, configure, and maintain

Virtualization optimization

Cisco VN-Link technology, I/O virtualization, and Intel Xeon 5600 series processor features, extending the network directly to virtual machines
Consistent and scalable operational model
Increased security and efficiency with reduced complexity

Unified management* (when integrated into the Cisco Unified Computing System)

Entire solution managed as a single entity with Cisco UCS Manager, improving operational efficiency and flexibility
Service profiles and templates that implement role- and policy-based management, enabling more effective use of skilled server, network, and storage administrators
Automated provisioning and increased business agility, allowing data center managers to provision applications in minutes rather than days

Six-core Intel Xeon 5600 series processors

Intelligent performance that automatically adjusts processor performance to meet application demands, increasing performance when needed and achieving substantial energy savings when not
Automated energy efficiency that reduces energy costs by automatically putting the processor and memory in the lowest available power state while still delivering the performance required
Flexible virtualization technology that optimizes performance for virtualized environments, including processor support for migration and direct I/O
With more cores, threads, and cache in a similar power envelope, the Cisco Unified Computing System and Intel Xeon 5600 series processors together offer further reductions in TCO, increased business agility, and another big leap forward in data center virtualization.
Cisco C-series servers keep pace with Intel Xeon processor innovation by offering the latest series 5600 processors with an increase in processor frequency and improved security features. With the increased clock speed, the Intel Xeon 5600 series based UCS C-Series rack mount servers will offer improved price/performance making UCS servers one of the best values in the industry.

Hot-swappable SAS and SATA drives

Up to 4 front-accessible, hot-swappable, internal 3.5-inch SAS or SATA drives, providing redundancy options and ease of serviceability
Balanced performance and capacity to best meet application needs:

15,000-RPM SAS drives for highest performance
10,000 RPM SAS drives for high performance and value
7200-RPM SATA II drives for high capacity and value

RAID 0, 1, 5, 6, and 10 support

A choice of RAID controllers to provide data protection for up to 4 SAS or SATA drives
Options include built-in RAID 0 and 1 support for SATA drives; RAID 0 and 1 for SAS or SATA drives through a mezzanine card; and RAID 0, 1, 5, 6, and 10 support through a PCIe LSI MegaRAID Controller

Cisco UCS Integrated Management Controller

Web user interface for server management; remote keyboard, video, and mouse (KVM); virtual media; and administration
Virtual media support for remote KVM and CD and DVD drives as if local
Intelligent Platform Management Interface (IPMI) 2.0 support for out-of-band management through third-party enterprise management systems
Command-line interface (CLI) for server management

Fast-memory support
12 DIMM slots supporting up to 192 GB of 1333-MHz memory for optimal performance
Support for up to 2 PCIe 2.0 slots

Flexibility, increased performance, and compatibility with industry standards
PCIe 2.0 slots, which double bandwidth over the previous generation and offer more flexibility while maintaining compatibility with PCIe 1
* I/O performance and flexibility with 1 low-profile x8, half-length and 1 full-height x16, half-length slot

Integrated dual-port Gigabit Ethernet

Outstanding network I/O performance and increased network efficiency and flexibility
Increased network availability when configured in failover configurations

Optical drive
Direct front-panel read/write access to CD and DVD media
All related part numbers for this product:
UCS-SP-C200E
Compatibility:
For questions about the compatibility of this product please
contact us.